How Can you Stay Organized During Exam Season, and Why is it so Important for healthcare students?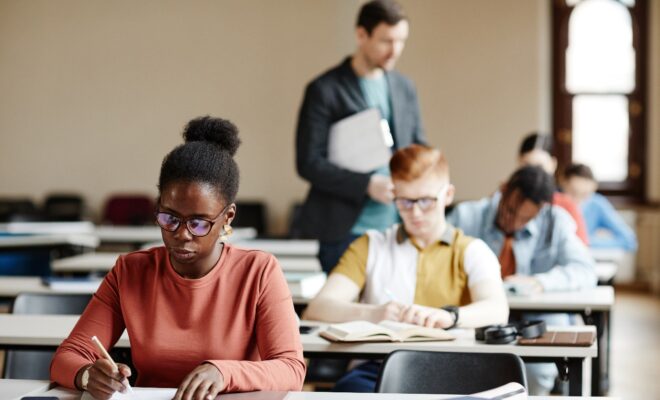 Education is a hugely important part of society and is essential in helping us prepare for life. This is true from the very earliest stages of our educational journey all the way through to the highest levels of the sector. Once you reach a certain point in education, you will soon find that exams rear their head, and revising for them becomes necessary.
While informal tests can begin pre-high school, high school, college, and university see formal exams becoming more common. It is, therefore, sensible for students to not only find ways to do well in their exams but also revise properly for them. Doing this means they can perform to their maximum ability and hopefully achieve a good mark.
Although there are many key elements for doing this, getting organized when revising and moving into exam season is crucial. But why should you try to get organized specifically for exam season – and what are the best ways to go about it?
Why bother to study and go through exam season?
For many students going through a busy exam season or battling a tough revision schedule, this thought might sometimes flash through their minds. This is only natural when the pressure is building or you begin to feel a little stressed with your workload. The critical thing when this happens is to remember why you are studying, what benefits it will eventually bring, and how it will help you achieve your career goals.
If you are studying the Doctor of Nursing Practice course at Marymount University, for example, you should take time to remember the positive DNP job salary and outlook open to you after graduation. If you also factor in the rewarding roles this award qualifies you for and how it prepares you to work at advanced levels within nursing, you should soon find the motivation to press on.
Organization is key during revision and exam season
During most academic courses, there will be points in the year when you must sit exams and revise for them in advance. This could be the end-of-year exams you must pass to continue or end-of-course exams with a major say in your graduating grade. Even if your program is mainly coursework based, you will probably still have to sit internal tests for specific modules at some point.
The most important thing to remember when revising for and sitting exams is being organized. Students who prepare in advance and work in an organized way stand a much better chance of performing to their maximum ability.
But what are the best tips for being organized during revision and heading into a run of exams?
Draw up a revision timetable 
Education is a joyous thing and gives us the skills needed to thrive in life and follow the career path we want. Doing well in exams normally comes into this at some point, though, and getting properly organized for them is certainly worthwhile.
One of the best places to begin when revising for any upcoming examinations is drawing up a revision timetable. This basically sets out what you will brush up on each day leading up to your exams.
These timetables are helpful because they set out a firm plan for you to follow and stop you from having to keep track of it all mentally. In addition, creating your revision timetable means you cover all the relevant subjects needed for your exams and do so in an organized, logical manner.
You can tailor your timetable to your own personal needs, too. Subjects you struggle with can be given the most time and attention, whereas subjects you are confident in may need less revision time. Another practical idea is to ensure you are revising the right topics at the right time. If you have multiple exams, start studying for the first one straight away and leave the topics for your last exam until a little later in your schedule. This way, you can keep subjects fresh in your mind before you sit the exam.
Organize the space you will revise in 
Although it is something of a cliché, it is true to say that many students can let their rooms get a little messy. While this is not a problem per se, it can have a negative impact on being properly organized when revising for exams.
A good tip is to tidy up the space where you will be revising and make it clutter-free. This can include anything from picking up clothes off the floor to taking out the trash or putting things into cupboards. Doing this will help you to focus better on what you are revising and avoid being distracted by the mess around you. It will also make it much easier to find any equipment or books you need to revise with.
If you study outside your home, choose your environment carefully. If you need quiet, a cafe might not work for you, or you may prefer to go when it is less busy. Your local or campus library will also have study spaces and potentially extra learning materials and resources. Make sure to take a look at the options and ask the staff anything you will need to know ahead of time, such as whether you need to book, the opening hours, or when they are busiest. Find the environment where you will be your calmest and in the best mind frame to work.
If you don't currently have a dedicated space for revision set-up, it is essential to get this organized first. By doing this, you will be able to have your own quiet space to learn, which has all the equipment/books you need to get ready.
Use cue cards 
In terms of revision, thinking about getting more organized in terms of how you learn can be an excellent tip. This works in a similar way to drawing up a revision timetable because it means you are revising in a logical, structured way.
One method which many students find works well is making cue cards. These are postcard-sized resources where you can write specific facts or points you need to remember for your exams.
By using cue cards, you can organize not only what you will revise but also pick out the essential points you need to know for each module. Even selecting the important things for the content of the cue cards is revision! Many students also find it easier to remember the short sentences or bullet points that cue cards contain.
It is possible to get creative with these revision aids and make them as visually appealing as you like. This makes it more likely you will use them and remember what is on them.
Avoid any external distractions 
Another excellent tip for organizing exam revision is to carefully eliminate unwanted distractions before you begin each session. This could be anything from switching off the TV to leaving your tablet/smartphone in another room.
By organizing all this before you begin revising, you will be much more likely to concentrate properly on what you are doing and get the most from it. It is also much more likely that you will remember more of what you revise and be able to use it in your upcoming exams.
What about tips for exam organization itself?
While the above might be focused on getting organized for exam revision, it is also key to get organized for the exams themselves. But how can you do this effectively?
A sensible place to start is getting hold of your exam timetable well in advance and looking over it. If you use a calendar or diary, make sure the dates and times are noted down. Knowing what days and times you have exams will help you plan properly for them and avoid you missing any. It also helps you to plan out your revision timetable.
In addition,, you should pack everything you need for an exam the night before. This helps avoid any last-minute panics in terms of finding things and helps you remain calmer on the day. With this in mind, you should also double-check exactly what you need for each exam in advance and check the rules on what is not allowed in the exam room.
Perhaps the last major tip around exam organization is leaving plenty of time for travel. It is key to give yourself extra time to get to the exam and thus avoid any disasters (such as bad traffic or canceled trains) making you late. It is also wise to double-check which building and room your exams are in beforehand and ensure you know how to get there. Not all exams will be in rooms you are familiar with!
Why is being organized during exam season so important for healthcare students? 
It is vital for all students to be organized when revising for and taking exams. This is especially true for healthcare students – but why is this the case?
One of the most obvious reasons is the number of examinations students in these types of courses can be required to sit. If healthcare students were not organized properly, they would not be able to keep track of which exams were on which day or in what order they needed to revise for them. Not being organized would also make it tricky to make sure they have covered every key module or piece of information needed when revising.
Being properly organized can also help healthcare students deal with their busy exam season in a calmer, more relaxed way. This is because they know they have a structured plan to work to and peace of mind that everything is in place for their examinations. Without the right preparation behind them, this would not be possible.
Helps deal with the busy nature of healthcare courses
Most healthcare courses are very busy and sometimes see students tackling revision/exams on top of other things, such as placements. As a result, proper organization is essential for healthcare students to not only do well in their exams but also fit them in with other parts of their course. Without having everything properly planned out, students in these programs could soon become overwhelmed with trying to handle exam season on top of everything else.
Proper organization is also important because it helps healthcare students pass their exams and do as well as possible in their courses. Revising in a structured manner can really help these students graduate with as high a grade as possible. This is very true when you consider the complex nature of most healthcare programs, and the way effective exam organization is needed to navigate them.
Being organized for exams also helps because it means healthcare students do not arrive late or flustered from not knowing which room they should be in. By avoiding this through prior planning, students can turn up for exams in good time and feel calm enough to perform well.
An important skill for a career in healthcare
Whatever role you may move into after graduating from a healthcare course, it is pretty certain that excellent organizational skills will be needed. Nurses, for example, must be organized enough to arrive for work on time, plan out their daily schedule effectively and complete the tasks they need to in the correct order each day.
Without good organizational skills to rely on, healthcare professionals in roles like this will struggle. Considering this, being organized when revising for and sitting exams on a health-related course is very useful. This is because it gets students into good habits around planning, which they can then take into their future careers.
As well as helping them thrive in their new role, it also gives them a key skill to use when moving up the career ladder. This is very true when healthcare students begin to look at more advanced roles in the sector. These positions usually all call for outstanding organizational skills due to the work involved and building these up as a student means they are there when required.
Organization is important for revision and exam season
As the above shows, it really is key for students to get organized when revising and taking examinations. This helps them deal with it all in a calm, stress-free way and sets them up to perform at their best.
While this is true for all students on courses with exams, healthcare students, in particular, need to get themselves organized. This is helpful for achieving the best marks they can while studying and useful for building up outstanding organizational skills for the job they move into post-graduation.